Portable Suction Pump
Compact, lightweight, and durable – our Vide ® portable electric suction pump comes with a 16LPM flow rate pump providing up to 600mmHg (80kPa) of vacuum. It is ideal for emergency or ENT aspirations. Different power options (AC or AC/DC) are available, as are canister options (reusuable, single-use). Each suction pump is provided with a high-quality EVA carrying case.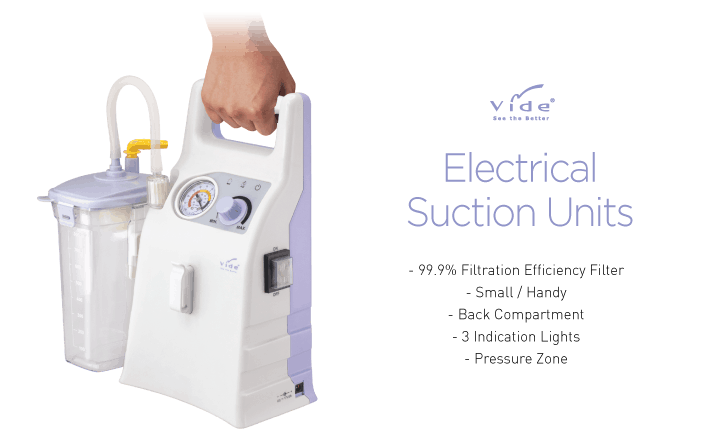 VIDE ®SUCTION UNITS
Item No. (with AC/DC)
Canister Type
Volume (ml)
Packaging
Image
MI215-0004/M1257 (AC only)
Rigid Reuseable
800
4pcs/Carton; 0.077CBM
 
MI215-0007
Autoclaveable
1200
4pcs/Carton; 0.077CBM
 
MI215-0005
Rigid Disposable
800
–
 
MI215-0006
Rigid Disposable
1200
–
 
MI215-0003
Disposable Liner
1300
1pc/Carton; 0.077CBM
 
ACCESSORIES
Item No.  (with AC/DC)
Descriptions
Volume (ml)
Packaging
Image
MI232
Reusable Canister
800
1pc/Carton; 0.070CBM
 
MI055
Rigid Suction Canister
800
48pcs/Carton; 0.11CBM
 
MI056
Rigid Suction Canister
1200
48pcs/Carton; 0.15CBM
 
MI151
Autoclaveable Canister
1200
–
 
S11-MI215-10490110
Suction Canister
1300
–
 
MI157
Liner
1300
50pcs/Carton; 0.139CBM
 
S11-MI215-0400
Air Filter
–
–
 
A14-MI215-0600
High Flow Filter
–
–
 
S11-RM010-0022
Suction Tubing
–
–
 
S11-M1219-1009
Elbow Connector
–
–
 
S11-1183370-V001 (Europe)
Power Cord
–
–
 
S11-10183301-0S0
Charger
–
–
 
S11-MI215-700300000
Carrying Case
–
(For MI1215-0004/MI257)
 
S11-MI215-700400000
Carrying Case
–
(For MI1215-0003/5/6/7)
 
Suction Liners
Our distinguished Vide® suction liners come in different sizes and bag options. Each liners type was designed to with stand a 1m drop and 50kg pressure test – as accidents do happen. Our newest design-patented bag liners are color-coded to provide instant identification of bag volumes. Each liner is equipped with anti-reflux vale at the patient port and a high efficiency filter at vacuum end to provide maximum safety. Pre-gelled liner option is available for those who require solidifiers but prefer immediate installation during usage.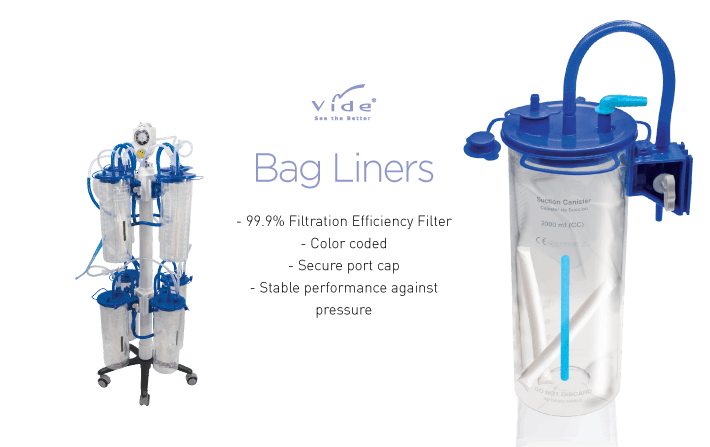 BAG LINER SERIES
Item No.
Descriptions
Volume (ml)
Packaging
Image
MI285-0003
Bag Liners
1000
50pcs/Carton
MI286-0003
Bag Liners
1500
50pcs/Carton
MI287-0003
Bag Liners
2000

50pcs/Carton

MI288-0003
Bag Liners
3000

50pcs/Carton

MI285-0002
Bag Liners with 20g Solidifiers
1000

50pcs/Carton

MI286-0002

Bag Liners with 30g Solidifiers

1500

50pcs/Carton

MI287-0002
Bag Liners with 30g Solidifiers
2000
50pcs/Carton
MI288-0002
Bag Liners with 40g Solidifiers
3000
50pcs/Carton
MI129-0008
Outer Canisters
1000
20pcs/Carton; 0.100CBM
MI358-0001
Outer Canisters
1500
–
MI301-0001
Outer Canisters
2000
20pcs/Carton; 0.130CBM
MI302-0001
Outer Canisters
3000
12pcs/Carton; 0.120CBM
LINER SERIES
Item No.
Descriptions
Volume (ml)
Packaging
Image
MI157
Liners
1300
50pcs/Carton; 0.139CBM
MI158
Liners
1800
50pcs/Carton; 0.158CBM
MI159
Liners
3200
50pcs/Carton; 0.168CBM
MI129
Outer Canisters
1300
20pcs/Carton; 0.100CBM
MI130
Outer Canisters
1800
20pcs/Carton; 0.130CBM
MI131
Outer Canisters
3200
12pcs/Carton; 0.120CBM